Product details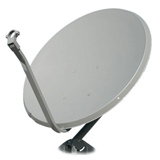 Winegard 31 inch offset satellite dish
Item SKU:
0542
Category:
Satellite Dishes
Brand:
Winegard
Same performance as our 33 inch dish but in a more compact 31 inch size.
Price: $69.99
Earn 69 SATVantage Rewards points with this purchase!
One of the best and most reliable 76 cm satellite dishes on the market, the DS2076 is manufactured by Winegard, the most reputable dish manufacturing company in the USA.


Excellent construction and easy installation dish for any Ku band satellite.  Higher Ku band signal gain than the competition.  Comes with a standard easy fit universal mount.  The elevation scale is easy to read and is very accurate.  The 76cm dish comes with a holder which supports all LNBF sizes.

SPECIFICATIONS

Mechanical
Effective Aperture
76 cm / 29.9 "
Antenna Height
87 cm / 34.3 "
Antenna Width
80 cm / 31.5 "
Antenna Weight
4.18 Kg. / 9.8 lbs.
F/D
.59
Offset Angle
24 degrees
Focal Distance
44.6 cm / 17.56 "
Surface Accuracy
.016 - .020 "
Elevation Range
10 - 90 degrees
Galvanized Steel
20 ga.
Mount Type
Universal - Roof or Wall
Feed Support
Universal - 23, 25, 35,40, 50 mm Clamps
Electrical
Frequency Range
10.95 - 12.75 GHz
Gain at Mid-band
11.2 - 37.6 dBi
12.1 - 38.3 dBi
12.6 - 38.7 dBi
Aperture Efficiency
76 %
Cross Polarization (on axis)
-21 dB
Beam Width
-3 dB - 2.4 degrees
-10 dB - 4.0 degrees
Enviromental
Wind Loading
Operational - 80.5 Km/hr / 50MPH
Survival - 161 Km/hr / 100MPH
Atmosphere
10 Years