Product details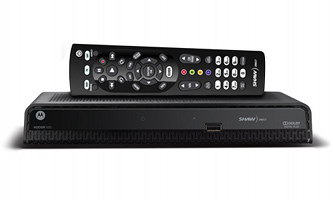 DSR 600 HD satellite receiver
Item SKU:
0634
Category:
Satellite Receivers
Brand:
Motorola
The Essential HD Receiver makes HD affordable for everyone!
Price: $99.99
Earn 99 SATVantage Rewards points with this purchase!
Discontinued
100% digital
Flexibility to watch standard definition (SD) programming on your SDTV or SD and HD Programming on your HDTV
NEW INTERACTIVE ON-SCREEN GUIDE - Find out what's on up to 14 days in advance.
ENHANCED PARENTAL CONTROLS - Prevent access to locked content, including program titles.
POWERFUL SEARCH FEATURES - Find your favourite program by title, or locate whatever you're in the mood for with our expansive genre search.
SMART REMINDER TECHNOLOGY - Receive a reminder when an episode of your favourite show airs.
3-in-1 Infrared remote that controls your receiver and most TVs and home theatre systems
HDMI OUTPUT - Stunning 100% digital HD picture and sound, all in one cable
Coaxial and composite video and stereo RCA audio connection provide great picture and sound, no matter what type of TV you have
Pay Per View - order Pay Per View movies and events through our automated phone system ($1 service charge per order) or through a Customer Service Representative ($3 service charge per order).
State-of-the-art hardware by Motorola 8PSK and MPEG4 Compatible
Compatible with Descriptive Video Services and Customisable Closed Captioning