Product details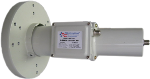 BSC621-2D C and Ku Band Dedicated LNBF
Item SKU:
0540
Category:
Satellite LNB & LNBF's
Brand:
DMS International
Dedicated C & Ku band outputs for maximum performance
Price: $29.99
Earn 29 SATVantage Rewards points with this purchase!
Discontinued
The best possible C and Ku band reception from this high gain, high stability and low noise C and Ku band LNBF. Dedicated C and dedicated universal Ku. No internal switching allows for better stability, better gain and lower noise temperature. Using this, you can rub two coaxial lines or use an external switch and run only one coaxial line to the receiver. This unique LNBF provides great performance on smaller dishes as well as large dishes.