Product details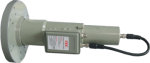 BSC621 C and Ku Band LNBF
Item SKU:
0541
Category:
Satellite LNB & LNBF's
Brand:
DMS International
Low noise C & standard Ku band LNBF
Price: $34.99
Earn 34 SATVantage Rewards points with this purchase!
Discontinued
C/Ku reception from this high gain, high stability, low noise C/Ku LNBF.  13K noise figure with 65 dB of gain on C-Band and 0.3dB noise figure on Ku Band.
Uses DiSEqC switching for band switching and 22KHz (tone) switching for LO switching.