Product details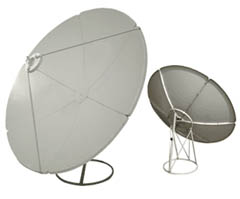 Digiwave 1.65m prime focus satellite dish
Item SKU:
0545
Category:
Satellite Dishes
Brand:
Digiwave
165 cm prime focus satellite dish, perfect for HITS TV
Price: $249.99
Earn 249 SATVantage Rewards points with this purchase!
Quality 1.65 meter prime focus dish made in Taiwan by Jonsa.   Comes with self supporting stand for easy installation on any flat surface such as wood or concrete with the appropriate screws.

Dish is meant to be stationary on a fixed position as it does not come with a polar mount.  Can be used to receive HITS TV and most C or Ku band satellites in central or southern Canada.




Items & spec
Panel
6
Aperture Diameter
165 cm
Focus Length
61.0 cm
C-BAND Gain @4.0GHz
35.2dB
KU-BAND Gain @12.45GHz
45.08dB
Elevation
0-90°
Azimuth
0-360°
Efficiency
70% min
Finish
Polyester Powder
Color
Gray/Cool Gray
Mounting Type
G/P/W/PM
Pole Diameter Acceptable
75 mm
Ambient Temperature
-40°C ~ +60°C
Relative Humidity
0~100%
Net/Gross Weight
24.0kg
Material
Steel