Product details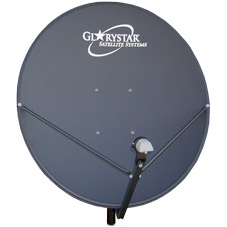 GEOSATpro 85 cm 36 inch offset dish
Item SKU:
0549
Category:
Satellite Dishes
Brand:
GEOSATpro
Considered among dealers and hobbyist to be one of the best constructed 90cm dishes available!

Price: $149.99
Earn 149 SATVantage Rewards points with this purchase!
GEOSATpro and Azure Shine have formed a partnership to provide high quality satellite dish products at low competitive prices. GEOSATpro


Patented rolled reflector edges provide the support necessary to maintain a perfect parabola. The LNBF arm is attached to the elevation bracket and strengthened by two support arms creating the strongest tripod LNBF support structure of any consumer dish available. This exclusive design provides an incredibly strong support for even the largest LNBFs. The sturdy adjustable elevation bracket allows for dish aiming angles from 0 - 90 degrees. An attractive and durable coating of charcoal colored textured poly withstands the elements and will look great for many years!


GEOSATpro 90cm exclusive "easy level" universal wall / roof tripod post makes dish mounting a breeze. No need to carry a level on your install. The bubble spirit level slips into the top of the mast for quick verification that the post is plumb and level. No more hassles with off center foot plates throwing the mast out of plumb. The unique slotted post mounts allow for 360 degree post levelling not like other manufacturer designs which only permit front to back adjustments. Tripod legs can be mounted at any point on the mast to assure a solid and secure mounting in the strongest wind.



Mechanical
Effective Aperture
90 cm / 36"
Diameter
93.5cm x 85 cm
Assembled Weight
12 lbs.
F/D
.5
Offset Angle
24.62 degrees
Surface Accuracy
.+/- 0.01 deg."
Elevation Range
0 - 90 deg.
Finish
Textured Poly Powder Coat Color: Charcoal
Mount Type
Universal - Roof or Wall with adjustable position tripod legs, 27" "J" post
double ended for height or reach setting. 360 degree level adjsutment.
Feed Support

Universal 40mm / 23mm Clamp

Electrical

Frequency Range
10.95 - 12.75 GHz
Gain at 12.5 Ghz
39.6 dBi
Aperture Efficiency
75 %
Beam Width
-3 dB - 1.8 degrees

Enviromental

Wind Loading
Operational 65MPH
Survival 125MPH
Atmosphere
10 Years