Product details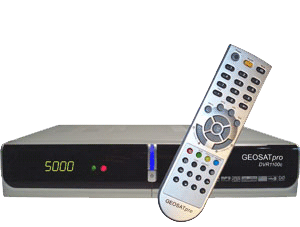 GEOSATpro DVR1100c satellite receiver
Item SKU:
0553
Category:
Satellite Receivers
Brand:
GEOSATpro
Powerful Satellite Receiver and DVR Digital Video Recorder Ready.
Price: $175.00
Earn 175 SATVantage Rewards points with this purchase!
Discontinued
A DVR Ready satellite receiver provides the ultimate convenience in viewing and recording options! Watch TV and listen to radio stations that way that you want.


DVR stands for Digital Video Recorder. Pause and replay live programming or record your favorite programs with perfect digital reproduction on the GEOSATpro DVR1100c with the attachment of an optional external USB 2.0 drive. No more puzzling over the VCR record menus, watching blurry pictures, and fumbling with bulky videotapes. Don't miss your favorite shows. Watch them at your convenience, whenever you want! View your favorite photos and listen to MP3 audio files through the DVR1100c multi-media center on your TV or connected stereo.


Connect an optional USB drive (see recommendations below) and get ready to replay and pause live or recorded programming or create instant replays with the Time Machine function. Save up to 500 hours on an USB 2.0 external 500GB drive. Record hundreds of hours of your favorite television and thousands of hours of radio programming for future viewing on your TV. Sharing or archiving recorded programs is simple with connection to your home computer. Watch recorded shows on the road with your laptop or share recorded programming files with any computer.


Want to share programs with friends to watch on their DVD player or listen on a MP3 or iPod? GEOSATpro is partnering with VideoReDo software to provide a solution for enjoying recorded satellite programming on a PC, burning DVDs, and ripping WAV audio files for playback on a MP3 or iPod player. Video ReDo offers software for editing recorded programming to eliminate commercials or even transferring home videos for playback with your DVR1100c. Just want to play recorded programs on a PC? Download the free player software Media Player Classic . Several software packages are also available for Mac to view, convert or rip DVDs. We have tested iSkySoft software for Macs and have found them to work very well. (Please contact the software providers or your computer equipment provider for product support. We are unable to provide technical support for your computer or software).


Experience fast and reliable channel selection. Superb picture quality supported with component, composite, s-video, or RF modulator reproduces vivid picture clarity on any TV, projector or monitor. Clear, crisp, high fidelity audio is available through optical Dolby Digital, RCA and modulated outputs.


Easy Installation
Installations are easy with the intuitive on screen guide which directs you through the activation, set-up and aiming steps. An advanced signal meter automatically appears on screen with a graphical spectrum display indicating signal changes as the dish is adjusted and updated twice a second! No long wait times for the receiver to lock onto a signal. A convenient signal button on the remote control allows instant access to the signal meter at anytime. A signal beeper provides audible verification of satellite acquisition.


The DVR1100c has an exciting new feature that automatically updates the receiver with additional channels and adds new features as they become available via the satellite! This OTA option allows automatic updating of important firmware and new channels anytime new Television or Radio channels are added.
Subscription channels are accessed with the built-in card reader which is compatible with IRDETO and supports cardless BISS.  Electronic Program Guide information is often available on select channels providing program information up to 7 days in advance. Easily locate your favorite shows for viewing and recording. Select the program that you wish to view or record and click on the title. The receiver will automatically tune the channel for viewing or recording to an attached USB 2.0 drive. Ten timers are also available to automatically tune or record TV or Radio shows one time or reoccurring daily or weekly series.


Glorystar Features
Weekly updates provide additional promotion and information channels exclusive for Glorystar viewers. Learn about the newest channels, upcoming special programming and equipment specials only available with a Glorystar approved GEOSATpro receiver. Glorystar offers viewers access to additional optional programming through partnerships with pay-per-view and subscription based channels. An Electronic program guide is in development with the support of Glorystar broadcasters and slated for introduction in 2010.