Product details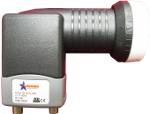 Avenger KSC322 0.2dB standard dual
Item SKU:
0627
Category:
Satellite LNB & LNBF's
Brand:
DMS International
Avenger LNBFs are High Stability, High Gain Ku LNBFs.
Price: $24.99
Earn 24 SATVantage Rewards points with this purchase!
The Avenger standard LNBF features an extended frequency of 11.7 to 12.75 GHz.  Standard 10.750 GHz LO for ease of set up.  Super low noise of 0.1dB makes it the best available LNBF for the money.  Standard 40mm LNBF throat allows it to be mount to just about any dish.  If you are looking for the best possible LNBF at a low cost, Avenger LNBFs are for you.