Product details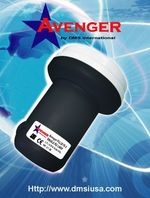 Avenger PLL321S-2 0.1dB Universal Ku-band PLL LNBF
Item SKU:
0637
Category:
Satellite LNB & LNBF's
Brand:
DMS International
Finally, an affordable Phase Locked Loop PLL LNBF with 300KHz or better stability!
Price: $15.99
Earn 15 SATVantage Rewards points with this purchase!
This item is temporarily out of stock
Please contact us for an ETA on this item. You may also follow us on
A technological breakthrough! The Avenger PLL321 S-2 LNBF is about the same price as the common LNBFs available today but with reduced frequency drift which was traditionally only found in more expensive commercial level LNB's.  

Now you can get extremely good stability (300 KHz or better) for your satellite system at about the same price that you would pay for a LNBF with 1 ,500 KHz (1 .5 MHz) stability or much worse.  300 KHz or 1 ,500 KHz, which one would you like on your dish? Now you can have the high
stability of PLL at a very affordable price.  These LNBFs are at least 5 times more stable than non-PLL LNBFs on the market today!!!