Product details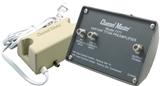 Channel Master Titan 7777 Preamp
Item SKU:
0065
Category:
OTA Amplifiers
Brand:
Channel Master
Price: $109.99
Earn 109 SATVantage Rewards points with this purchase!
Discontinued
The Titan range of mast mounted amplifiers has been completely reengineered and updated. These amplifiers represent the ultimate in preamplifier performance. They are designed for use as an ultra low noise, ultra high gain preamplifier for deepest fringe applications and MATV headend applications.

Their very high signal handling also makes them suitable for use as a mast mounted, ultra low noise distribution amplifier for use in small MATV systems. All models feature 75 ohm, input and output connections in line with modern headend engineering practice.

SPECIFICATIONS:

    * Number of Inputs:  ½ (VHF & UHF)
    * Input and Output Impedance:  75 Ohms
    * Input and Output Connectors:  F Type Connectors
    * VHF Gain:  23 dB
    * VHF Noise Figure:  2.8 dB
    * VHF Output Capability:  57 dBmV
    * Switchable FM Trap
    * UHF Gain:  26 dB
    * UHF Noise Figure:  2.0 dB
    * UHF Output Capability: 51 dBmV

The power supply that comes with this amp goes inside the building, so you do not have to run a separate cable for power.  The unit inside the building injects voltage up the coax cable, so there is no need to put a power supply outside.  Be sure not to place any devices in-line between the pre-amp and power supply, or the voltage will be blocked and the unit will not function correctly.