Product details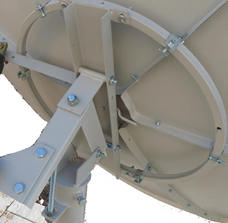 Polar Mount for 1.8m dish
Item SKU:
0653
Category:
Satellite Dishes
Brand:
Fortec Star
Motorize your existing ground mount dish by installing a polar mount!
Price: $150.00
Earn 150 SATVantage Rewards points with this purchase!
Discontinued
Please note that although this polar mount can be used on most 1.8, 2.1 and 2.4 meter solid panel dishes, you may need to drill holes on the back of your dish panels order to secure the new support ring that comes with this polar mount.

Polar mount comes with everything you see in the picture except the reflector panels.

3 INCH OD pole and actuator are also required in order to use this polar mount andhttp://www.drsat.ca/ are NOT included!