Product details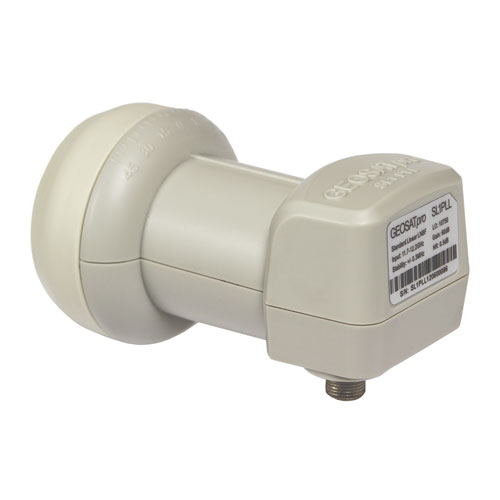 GEOSATpro SL1PLL LNBF
Item SKU:
0699
Category:
Satellite LNB & LNBF's
Brand:
GEOSATpro
World's First PLL Standard LO LNBF
Price: $17.00
Earn 17 SATVantage Rewards points with this purchase!
An incredible Lifetime Warranty* on an outstanding KU-band LNBF! Introducing the revolutionary GEOSATpro SL1PLL - The World's only Standard type LNBF with PLL circuitry. Now a home viewer has access to a quality professional grade LNBF! The SL1PLL is the perfect replacement LNBF for any Glorystar, FTA, hobbyist or commercial system.

The SL1PLL offers a lifetime warranty, guaranteeing your SL1PLL LNBF to be free of any manufacturing or design defects, an unbelievable maximum +/- 300KHz frequency drift and absolutely no UV related damage for as long as you own your satellite system. What makes this LNBF so unique and special? PLL (Phase Locked Loop) LNBs are typically only found in high end commercial systems and historically cost 10, 20 or even 30 times or more than the LNBFs produced for the residential customers. The SL1PLL is a breakthrough LNBF, built with the highest grade materials and the latest RDA chipset and PCB technology. Recent technology allow for cost effective production of PLL LNBFs with lower current draws, lower heat generation, lower internal noise generation and increased performance.

The SL1PLL has been designed to meet the requirements for commercial applications and the most demanding satellite hobbyist. Reliable reception of digital HD MPEG4 channels with low symbol rates or high FEC requires an LNBF that excels in several performance benchmarks. The SL1PLL has exceptional flat gain across the 11.7 - 12.2GHz frequency range, features an excellent phase noise rating with low internal noise generation during signal conversion / amplification and stable frequency tuning for narrow bandwidth signals.