Product details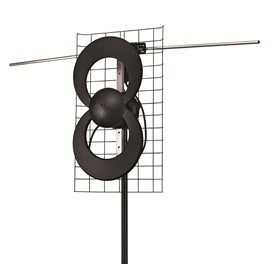 Antennas Direct ClearStream2 C2-V
Item SKU:
0705
Category:
OTA Antennas
Brand:
Antennas Direct
Compact indoor or outdoor VHF / UHF antenna

Price: $119.99
Earn 119 SATVantage Rewards points with this purchase!
Great performance in a compact form. This indoor / outdoor VHF & UHF antenna features improved gain and impedance bandwidth as compared to single models. 

The first in a series of compact, highly efficient antennas designed and optimized for 2009 VHF and UHF frequencies associated with the DTV transition.

The ClearStream2™ antenna represents a new breakthrough in size and unmatched ultra efficient design and gain.  Advanced design software allows these 10" x 20" antennas to be smaller and more powerful across the entire UHF DTV spectrum offering consistent high gain. With the efficiency of the C2 you can have range and power normally found in antennas up to 5 times the size in a compact and attractive form. The C2 delivers TV signals from widely located broadcast towers and offers flexible aiming characteristics with an extremely wide beam width of 70 degrees.

Optimized for the post 2009 VHF and UHF digital frequencies. Designed for reception on core UHF DTV (ch 14-51) and VHF High DTV (ch 7-13).