Product details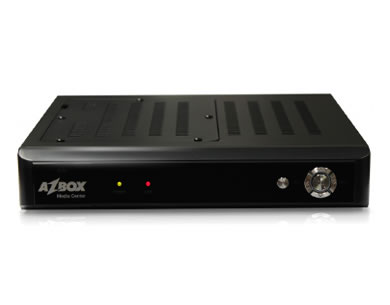 AzBox Home Media Center
Item SKU:
0733
Category:
IPTV Internet TV Receivers
Brand:
AzBox
Play all of your media content with ease with the AzBox Home Media Center
Price: $199.99
Earn 199 SATVantage Rewards points with this purchase!
The advanced multimedia module included in the AZBox Home Media Center takes advantage of the power of Linux allowing you to easily playback any Video and Audio files such as XviD, MPEG and MKV files from an attached hard disk or directly off a network share by connecting the unit to your router via Ethernet.  Enjoy Internet content on your TV with a built in web browser, YouTube player, IPTV player and keep in touch with the latest news with our RSS reader.





FEATURES




Media Player




With the new Azbox HOME MEDIA CENTER you can see and hear all multimedia files without any problem: H.264, WMV, MKV, AVS, MPEG-2 or MPEG-4. All support for all types of subtitles SMI, SRT, TXT, SUB, SSA. All accessible from a USB memory device or hard disk, through a unique file manager. You can also access them through a local area network.




All your music




It is designed to provide high-quality digital music. Juke box, gives the possibility to make their own music playlists and while data is shown sounding album and its cover on the screen. Azbox Home media center is capable of playing MP3, WMA, AAC, WAV, AC3, FLAC, Ogg, music albums and create a slideshow while listening to background music.




Full High Definition format 1080p




The AZBox Home Media Center is capable of reproducing High Definition content in 1080p resolution. With this format, you can enjoy the highest quality content in the comfort of your home. Watching TV will become a totally new experience with a crystal clear image, as if it were happening in front of you. The AzBox Home Media Center will also upscale standard definition content to 1080p for maximum picture clarity with today's modern televisions.




IPTV




IPTV on AZBox HD is easy to configure and use. Your IPTV channels will be included on an easily browsable channel list. Try the new generation of content distribution on your AZBox HD.




Recording and Time Shift




Thanks to your AZBox Home Media Cente, you will not lose any critical scenes of your favourite show if you need to leave the room. By simply activating the Time Shift function, your program is paused and can be later resumed at your convenience from that exact moment on. You may also record shows either manually or by scheduling a recording ahead of time. With the AzBox Premium HD Plus, you have time on your hands!




File Browser 




The AZBox Home Media Center includes a File Browser which allows you to browse files not only from local drives attached to the unit but any shared folders on your network as well. You may easily copy or move files between drives and even play media directly from a shared folder on your network!




Web Browser




AZBox HD models include an integrated Web Browser that allows you to surf the Internet on your TV, using only your Remote Control. You can store your Favourite sites in a Favorite list, adding any site to that list is just a click away. Increase your Web experience with AZBox HD.




YouTube Player




With AZBox HD, it is possible to watch YouTube videos on your TV, the easy way. You do not need to use a browser, just set your preferences in the categories menu, and you are ready to enjoy the wonders of YouTube. Discover the features implemented in our YouTube Player. Search and organise videos by Country, Genre, etc. In AZBox HD YouTube Player you can watch the videos in full screen for a better experience.




RSS Reader




AZBox HD models are capable of reading RSS feeds. This option is fully customizable by the end user in various ways, enabling you to add any kind of RSS feeds provided by web sites as on-line news, blogs, among others.




FTP Client




The AZBox Home Media Center also includes an integrated FTP Client which allows you to connect to any FTP server and either upload or download files from/to your unit's hard disk.




Connectivity




The AZBox Home Media Center is equipped with a high level of connection options: 2 USB 2.0 connectors that allow users to connect portable media or external USB HDD, an internal compartment allows you to install an internal SATA HDD of up to 1000 GB in size, HDMI (High-Definition Multimedia Interface) output to enjoy the best picture and audio quality in Full HD 1080p, digital optical audio output, Composite video (YPBPR), Composite video and stereo audio RCA.