Product details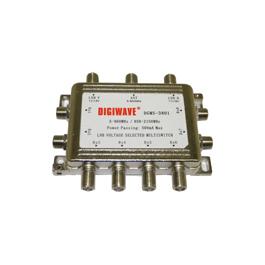 DGMS-3801 3x8 multiswitch
Item SKU:
0735
Category:
Satellite Switches
Brand:
Digiwave
Connect up to 8 satellite receivers on 1 dual LNBF
Price: $39.99
Earn 39 SATVantage Rewards points with this purchase!
FEATURES:
- Nickel-plated.
- Zinc die-cast housing.
- Excellent quality components.
- Professional circuit design.
- Low loss.
- 13/18V supplied by satellite receiver through coaxial cable to switch corresponding port.
- Two SATV signals switched through 13/18V.
- Distributed into 8 subscribers to use simultaneously with no mutual interference.
- Applicable to multi-satellite and multi-receiver usage.


SPECIFICATIONS:
Frequency range Antenna input: 5-860 MHz.
Frequency range Satellite input: 950-2150 MHz.
Inputs: 2 satellite, 1 terrestrial antenna off-air local TV-FM.
Outputs: 8.
Power passing LNB power supply: 500 mA maximum.
Insertion loss ANT: 5 dB.
Insertion loss SAT: 5 dB.
Isolation In-In ANT: 25 dB.
Isolation In-In SAT/ANT: 25 dB.
Isolation between outputs: 25 dB.
Isolation H/V: 28 dB.
Return loss SAT inputs: 10 dB.
Return loss ANT inputs: 12 dB.
Return loss outputs: 8 dB.
Output level ANT: 95 dB?V.
Output level SAT: 85 dB?V.
Normal working voltage: 12-20 volts.
DC power consumption: 50 mA.
DC Max power passing: 500 mA.
Impedance of all ports: 75?.
Switching voltage: 13/18V.
Connectors: "F" type female.
Temperature range: 25° C - +60° C.