Product details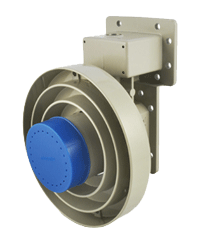 Chaparral dual C-band feedhorn 11-1329-1
Item SKU:
0904
Category:
Satellite LNB & LNBF's

Price: $179.99
Earn 179 SATVantage Rewards points with this purchase!
Discontinued
The Chaparral Dual Feed feedhorn is a dual orthomode transducer for simultaneous reception of horizontal and vertical C-Band polarities. Due to its reliable performance with virtually no signal loss, Chaparral's Dual Feed is the most trusted feedhorn for commercial applications.

Specifications
Part Number 	11-1329-1
Frequency Range 	3.4-4.2 GHz
VSWR 	1.5:1 Max
f/D Range 	.33 to .42
Cross Pol. Isolation 	1.5 dB Min
Output Ports WR 	229 Compatible
Temperature Range 	-40° C to +60° C
Size 	8.0? x 6.5? x 5.0?
Weight 	2.23 lbs.