Product details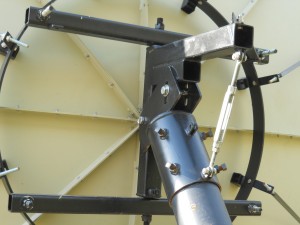 DH 3.8M sectional dish w/ AZ/EL mount
Item SKU:
0913
Category:
Satellite Dishes
Brand:
DH Satellite
Please note that price includes freight shipping to install site. Additional costs may apply for locations in remote areas or without a loading dock.

Price: $5,400.00
Earn 5400 SATVantage Rewards points with this purchase!
A computer controlled machine is used to manufacture 
the ribs allowing them to have the exact parabolic curve 
of the antenna. The generated ribs, also referred to as 
templates, are secured to the antenna prior to cutting the 
antenna into sections. The templates allow for the 
antenna to be re-assembled and perform as a 1pc. 

Templates hold the antenna in shape so you are assured 
of a perfect antenna  each time. 

*Each antenna system will have 1 open crate and 1 pallet for shipping. 

*Dimensions & weights are approximate.  


ANTENNA SPECIFICATIONS
C Band Gain @ 4 Gig: 42.5 db 
Ku Band Gain @ 12 Gig: 51.8 db 
Thickness: .125 
f/d Ratio: .378 
Wind Force at 60°F at 90 MPH: 5,080 lbs 
First Side Lobe: 2.3° 
All Side Lobes: -22 db 
3db Beam Width: 1.4° 
F/L": 57.6" 
Antenna Weight: 237 lbs 
Crate Weight w/Antenna & Crate Dims w/Antenna: 464 lbs @ 79"x36"x81" 
Mount Weight: 220 lbs 
Pallet Weight w/Mount & Pallet Dims w/Mount 230 lbs @ 50"x50"x19"