Product details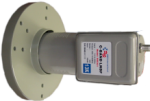 BSC421 C-Band LNBF
Item SKU:
0538
Category:
Satellite LNB & LNBF's
Brand:
DMS International
High gain, high stability, digital ready, C-band LNBF with low 13 degree noise figure!
Price: $19.99
Earn 19 SATVantage Rewards points with this purchase!
Discontinued
The BSC421 C-band LNBF out performs separate LNB and feedhorn combinations by eliminating the bends and reflections caused by LNB / feedhorn technology. The BSC421 provides a straight shoot from the dish to the active probe inside our "in-line" wave guide. This
eliminates loss and induced noise.

This is your best choice to receive C-band on a 1.2 meter or smaller dish using a conical scalar ring.