Product details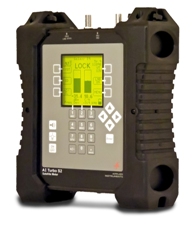 AI Turbo S2 Satellite Meter
Item SKU:
0643
Category:
Satellite Signal Meters
Brand:
Applied Instruments
The AI Turbo S2 is an evolution over the Super Buddy 29 meter
Price: $999.99
Earn 999 SATVantage Rewards points with this purchase!
This item is temporarily out of stock
Please contact us for an ETA on this item. You may also follow us on
From the makers of the world famous Super Buddy, the AI Turbo S2 meter now supports DVB-S2 with either QPSK or 8PSK modulations.  With extreme ruggedness and a heavy duty battery, the AI Turbo S2 meter is ideal for the demanding satellite professional installer who is looking for a durable meter.



Meter can be used to install all types of satellite systems including:


Shaw Direct
HITS TV
C and Ku band Free To Air
Bell TV
HughesNet satellite internet. The AI Turbo S2 brings forward the following enhancements over the Super Buddy 29 meter:
compatibility with DVB-S2 broadcast signals (QPSK & 8PSK)
a high capacity lithium-ion battery that's easily replaceable
faster signal locking and faster overall operation
enhanced spectrum screen with better resolution
constellation screen for DVB-S2 broadcast signals (QPSK & 8PSK)
faster software downloads and uploads
250-750 MHz tuning range for satellite signals (used in some band-stacking systems)
saving of spectrum plots for later upload and viewing on a PC
4 kHz tuning resolution (i.e. can tune to 12001.528 MHz instead of to 12002 MHz)
built-in time & date clock
time stamps on Proof of Performance Scan and Limit Scan results
more flash memory for storing saved Proof of Performance Scans, Limit Scans, Spectrum Scans, etc.
more precise battery level & battery charge status monitoring
many other small refinements