Product details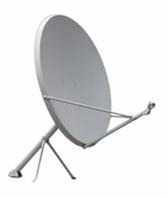 90 cm 39 inch offset satellite dish
Item SKU:
0864
Category:
Satellite Dishes
Brand:
WaveFocus
Receive all available 300+ KU-Band FTA channels with a true 90 cm offset satellite dish.
Price: $99.99
Earn 99 SATVantage Rewards points with this purchase!
The high performance 90 cm (39 inch) WF90 offset satellite dish by WaveFocus will ensure a stable signal from lower powered KU channels and during heavy rain on most KU-band satellites.
Unlike claims from other brands, this is a true 90 cm or 39 inch satellite dish measuring 90cm x 99cm.  The 2 side support arms provide maximum LNBF stability during windy conditions.



Offset Antenna > WF90
| | |
| --- | --- |
| Items & spec | WF90 (90 CM) |
| Offset Angle | 24.62 |
| Aperture-Short Axis | 90.0 cm |
| Aperture-Long Axis | 99.0 cm |
| Focus Length | 54.0 cm |
| KU-BAND Gain @12.45GHz | 40.32dB |
| Elevation | 20-60 / 23-90 |
| Azimuth | 0-360 |
| Efficiency | 70% min |
| Finish | Polyester Powder |
| Color | Gray/Cool Gray |
| Mounting Type | G/W |
| Pole Diameter Acceptable | 38-48 |
| Ambient Temperature | -40°C ~ +60°C |
| Relative Humidity | 0~100% |
| Net/Gross Weight | 8.6kg |
| Material | Steel |
|   |   |