Product details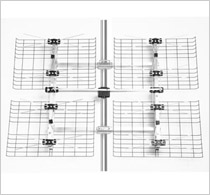 Antennas Direct DB8 8 bay UHF antenna
Item SKU:
0534
Category:
OTA Antennas
Brand:
Antennas Direct
The DB-8 is one of the best performing UHF antennas currently in the market!
Price: $129.99
Earn 129 SATVantage Rewards points with this purchase!
Intended for people at great distances from the transmitters, the DB8 is a powerful multi-directional HD antenna. In fact, its 15.8 dBi gain make it one of the most powerful multi-directional antennas available.

The bow tie design of the DB8 uses triangular elements instead of rods to greatly increase the bandwidth allowing it to cover the entire UHF band. Additionally, the mesh reflector of the bowtie is more efficient than a rod reflector, is lower in weight, and provides less wind resistance for greater performance and durability.

This DB8 is the ideal antenna for use in locations that can pull long range signals from various directions and offers an attractive alternative to using a directional antenna mounted on a rotator.