Product details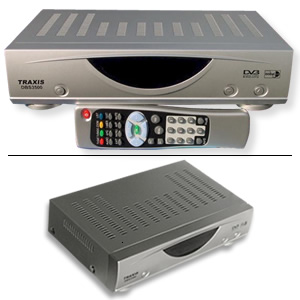 Traxis DBS3500 FTA receiver
Item SKU:
0629
Category:
Satellite Receivers
Brand:
Traxis
Quality standard definition receiver with superior blind scan
Price: $89.99
Earn 89 SATVantage Rewards points with this purchase!
Discontinued


This is the power house of FTA.  It boasts the fastest and most thorough blind scan in the market.  If you're looking for the best possible blind scan receiver at the best possible price, look not further.  The Traxis DBS3500 receiver will exceed your expectations.



Features: Blind Search, Fully MPEG2 DVB Compliant, Free Converting between PAL source and NTSC display, User Programmable, Stores up to 100 satellites, Stores up to 4,000 channels, EPG, Easy and fast program update through RS232, Multi-LNBF control, DiSEqC 1.0, DiSEqC 2.0, 0/22 KHz switching, SCPC/MCPC receivable from C and Ku band satellites, Menus in English, German, French, Spanish, Italian, Polish, Portuguese, Turkish, plus many more features.
Our receivers work for both Ku band and C band satellite reception.