Product details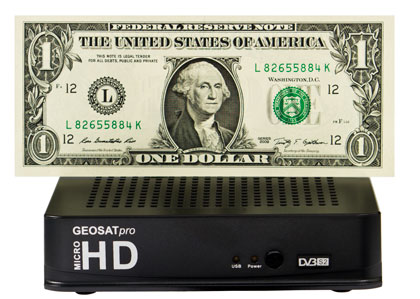 GEOSATpro microHD MPEG4 FTA receiver
Item SKU:
0671
Category:
Satellite Receivers
Brand:
GEOSATpro
Powerful, reliable, yet compact DVB-S2 MPEG4 HD satellite receiver
Price: $125.00
Earn 125 SATVantage Rewards points with this purchase!
Discontinued
Finally, a MPEG4 HD satellite receiver 
with hardware and firmware designed, 
developed and programmed in the US 
specifically for the North American 
market. No useless connectors or hacker 
features. Loaded with the functions that 
hobbyists and satellite enthusiasts have 
requested! All licenses, certifications 
and requirements for North American 
distribution are in place, including FCC 
part 15 compliance, ETL safety 
certification and Closed Captioning 
support.

Tired of waiting for firmware releases to 
fix the original problems that your 
receiver was sold with, then it creates 
even more problems? Don't understand the 
poorly translated manuals and menus? 
Satellite AV has a 10 year, product 
proven record in providing solid upgrades 
and we write the menus, manuals, 
procedures and firmware for the microHD. 
When you purchase a GEOSATpro microHD, 
you are buying a product that our 
engineers use in their own homes!

The GEOSATpro microHD is a powerful, 
reliable, yet compact full 1080P HD 
satellite receiver with DVR and multi 
media playback.

The microHD is the World's first and only 
MPEG4 receiver to decode Closed 
Captioning for display over the HDMI!  
The microHD also simultaneously outputs 
Closed Captioning for TV decoding on the 
composite output.  

FEATURES:

Flawless motor control for programming up to 150 satellites via USALS +/-70 degree and/or 99 assignable DiSEqC 1.2 positions.
Satellite independent defined switch control for cascading 22KHz, DiSEqC 1.0 and DiSEqC 1.1. Accurate Blind Scans with the PCB integrated and highly sensitive Airoha tuner.
Capable of listing over a thousand of services per transponder, logging at 128 services per scan.
Currently supporting QPSK, 8PSK, H8PSK and 16APSK modulation types.
LNB support for LO frequencies 0 through KA-band 18050MHz, Universal and Stacked in any combination or mix.
Local time selection of either local manual or GMT offset time setting with no loss of time in standby.
Record two channels and watch a third.
Satellite delivery of firmware updates and custom channel lists GEOSATpro Remote (special download schedules for advanced users to try new, beta firmware or customer designed screens and skins).
Choice of two PC editor programs 1) ALI Editor 2) Mediabox Editor Studio (in beta).
Owners / Installation Manual written by our staff in English. Not a generic and vague manufacturers photocopy.....
Officially supported by SlingBox. http://www.slingbox.com
Low current draw, 12vdc power source is perfect for use in any home, business, church, cabin, RV, tailgating or even using alternative power sources such as solar or wind.