Product details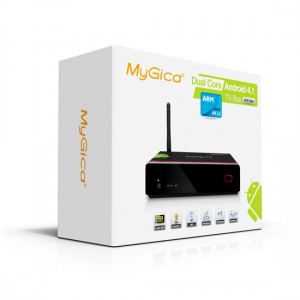 MyGica ATV 1200 Android 4.1 Dual Core Smart Tv Box
Item SKU:
0800
Category:
IPTV Internet TV Receivers
Brand:
MyGica

Price: $129.99
Earn 129 SATVantage Rewards points with this purchase!
Discontinued
The ATV1200, also called Dual Core Android TV box, is a Android box HDMI output to turn your TV to a multifunctional smart TV: a media player, an internet browser with big view, a photo viewer, a game player, a music player, a huge size screen ebook/emegazine/newspaper reader, an online video TV, and it is a revolutionary entertainment on your TV, it provides a new family television entertainment experience, TV is smart from now on. MyGica ATV 1200 comes Pre-loaded with XBMC  + Download from over 1 million other games and apps on the Android Store.
 
The Dual Core smart TV box is using ARM CORTEX A9 x 2 CPU, based on Android 4.1 operating system, supporting Google Chrome browser, wire and wireless networking access, USB external hard disk and single hand keyboard, mouse as well as easy like a normal remote control.


Features:


ARM CORTEX A9 dual core processor operating at a clock speed of 1.2GHz to 1.5GHz
1GB RAM with built in 2G-32G flash memory
Powered by Android 4.1 operating system
Built in 802.11b/g/n WIFI module for wireless network connectivity
USB interface with support for external HDD, mouse and keyboard devices
RJ45 10/100M Ethernet interface
Supports up to 1080P video playback
HDMI video output, connect to HDTV for HD video playback
Includes weather, calendar, and desktop clock applets
Supports 2.4G wireless motion (also called air or sky) remote control
Support Flash Player 10.2, hardware decoding, Flash 11.1 software decoding for online video playback
Supports music playback and viewing pictures on your TV.
Support SD card, 4 USB ports and Google Chrome browser
AppInstaller for application installation from USB/SD