Product details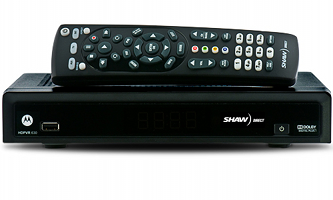 HDVR630 HDPVR satellite receiver (refurbished)
Item SKU:
0809
Category:
Satellite Receivers
Brand:
Motorola
TV on your schedule! Easily record your favorite shows for later viewing. Refurbished receiver with brand new remote control.
Price: $199.99
Earn 199 SATVantage Rewards points with this purchase!
Discontinued


BUILT-IN HARD DRIVE – Record up to 175 hours of standard definition, 45 
hours of High Definition programming, or a combination of the two (Hours may vary 
depending on content.)

SMART PVR TECHNOLOGY – Customise your series recordings with only new 
or all episodes in HD, SD or even 3D

DUAL TUNER – Record two new shows while you watch a third from your 
recordings list.

TIME TRAVEL™ – Skip forward instantly to avoid certain parts of a recorded 
program, or jump back to see something again – like a great goal or slam dunk.



100% digital.
Flexibility to watch standard digital or High Definition programming on your HDTV.
NEW INTERACTIVE ON-SCREEN GUIDE – Find out what's on up to 14 days in advance.
ENHANCED PARENTAL CONTROLS – Prevent access to locked content, including program titles.
POWERFUL SEARCH FEATURES – Find your favourite program by title, or locate whatever you're in the mood for with our expansive genre search.
3-in-1 Ultra High Frequency remote that controls your receiver and most TVs and home theatre systems
Digital optical connection for Dolby Digital 5.1 Surround Sound capability.
HDMI OUTPUT – Stunning 100% digital picture and sound, all in one cable.
Compatible with Descriptive Video Services and Customisable Closed Captioning