Product details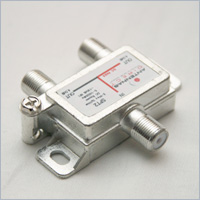 Antennas Direct SPT2 2 Way DC Pass Splitter
Item SKU:
0813
Category:
OTA Splitters & Switches
Brand:
Antennas Direct
Price: $14.99
Earn 14 SATVantage Rewards points with this purchase!
Discontinued
2 Way splitter with DC pass one side only. This allows for splitting of OTA signals outside with use of a pre-amp. You can then power the Pre-amp with the DC Pass side of the splitter.